Calling all actors and dreamers, this is the DIY article for you! It's like your own personal "knight in shining armor" or a "happily-ever-after.".
As a fellow actress, it is my desire to keep working, even when I'm not working on a project. What this means is, I've tapped into my creative side and gone logistical. Confused? That's because it's totally innovative, baby.

What I mean is that if you want to grow as an actor, you should always be playing with a new scene.
For example, if you were an oboe player, you wouldn't only play the pieces you were getting ready to perform at a concert. You'd practice other pieces of music too, because practice increases your skill.
It's the same with acting.
I don't know any actor that has created a virtual library of scenes, so let's try something new, shall we?
This is why you should create your own, innovative library full of scenes, so you can, in turn, become a more skilled actor.
It takes some time, and you will have to stop dreaming about your library and actually get down to the business of creating it.
I created my Beauty and the Beast inspired dream library of scenes and let me tell you, it's really increased my ability to pick up a new scene and figure out a character quickly and more efficiently.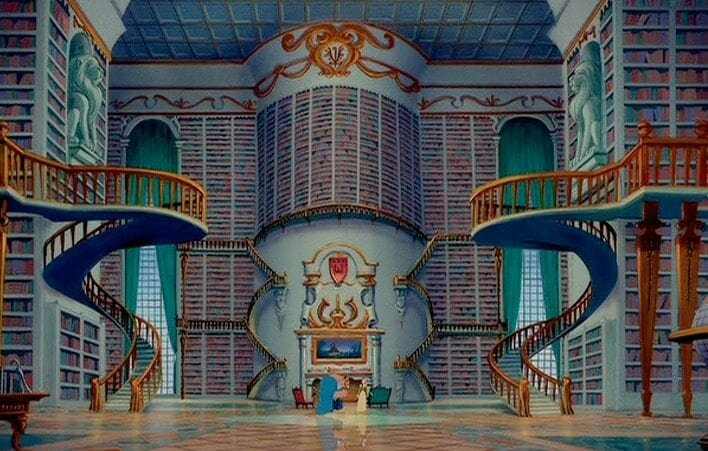 Here you will learn how to create your own dream, innovative library, chock full of scenes.
Things You'll Need:
Your phone or other note taking device

A laptop or computer, with internet access

A Virtual Library (for this article I'll be using a program called Celtx)

And of course, lots and lots of scenes
STEP ONE – Watch Movies and TV Shows
It's taken me years to build my dream, scene library, but then again, I'll never really be done building it.
The first step in building yours is to watch movies and TV Shows.
While watching have your phone or a note pad and pen nearby. This way, if you're watching a scene and start to think, 'now there's a scene I'd like to explore more,' you can write it down for later.
Here's a few good things to look for in a potential scene for your library:
Can you identify with the character?

Will it push you to try something new?

Is there a clear objective for the character?
Really, it can be any scene you find interesting, but hopefully the above will help.
Once you've seen a scene you want to practice with, simply write a note saying what show or movie it was and any pertinent info that'll help you remember that specific scene when you look at your notes later.
If it's a TV show, I try to write down the season and episode; it comes in handy later, trust me.
I do this on my iPhone's Notes. I have a whole note titled "Acting Scenes".

For example, I was watching Black Mirror the other day and thought the fight scene between Lacie (Bryce Dallas Howard) and her brother Ryan (James Norton) was really intriguing.
Naturally, I grabbed my phone and jotted down, "Black Mirror (S3, E1) Fight between sis and bro".
STEP TWO – TIME FOR A TREASURE HUNT
Next time I sit at my computer or laptop, I open Google and get to work on the treasure hunt that is finding the script for the scene. If it's a TV Show, then it can be a bit more of a challenge to find the scene. It's best to look up the episode name first.
IMDb is a great resource for this. Simply type in the show's name (Black Mirror) and it will give you options for what you're looking for.
Once you've found the right show, scroll down to the list of seasons and find the season and episode you're looking for.
I already knew it was season 3 and episode 1, so I typed this straight into Google. It popped up with the IMDb reference for the episode titled, "Nosedive".
Once you know the episode name or movie name, type it into Google with the word "script" or "screenplay" and several options should pop up.
I typed, "Black Mirror Nosedive Script". You can see below, this gave me a great lead in the first option.

Now, not all sites are going to give you the script in a pretty or clean format. You may have to continue your treasure hunt to find a better version.
This definitely happened to me as I searched for the scene within the "Nosedive" episode script on www.springfieldspringfield.co.uk. However, once I found it I greedily snatched it up and made room in my virtual library to add it.
STEP FOUR – OPEN YOUR DREAM, INNOVATIVE LIBRARY
I want my library of scenes to be organised and formatted correctly. I use a program called Celtx, which is a screenwriting program you can download here for free. I'll be using this program from here on out to show you how to create that dream, innovative library of scenes.
If this is your first time using Celtx, you'll be asked to create a new project out of the choices listed below. For your library, you'll want to pick the top template, "Film".


Once your new library is created, make sure to give it a good name and save it before you even add any scenes. This will ensure that you don't lose anything later on.
Now, you get to start adding scenes to your dream library!
You'll notice on the left side panel, there's a small + sign. Click this and a new window will open asking you what you want to create. Pick "Script" from the list provided and then name your scene.
I often pick scenes from the same movie or TV show, so I always name my scene with the title of the show/movie, and then in parenthesis I add a tiny description that will remind me what the scene is about. You may find you want to just say what season and episode it is, but they're easier to reference back to if I give it a tiny description instead.
For the Black Mirror scene, I called it, "Black Mirror (Sibling Fight)" and pressed the "OK" button.


STEP FIVE – ADD THE SCENE TO YOUR DREAM, INNOVATIVE LIBRARY
One thing to note, if you copied the script off a website, remember to keep this for personal use only in order to avoid any copyright issues, etc.
Alright, with that out of the way, let's get pasting!
When I pasted my scene into the Celtx, it didn't format very nicely. My job isn't done yet.


If you've got basic knowledge of script formatting, great! Move on to the next step.
If you're not familiar with correct formatting, that's perfectly fine as well; stick around and let me explain it a bit.
In Celtx, you'll see a drop down menu that gives you suggestions of what you want something to be, i.e. Dialog, Character, Action, etc.
There are a lot of different options, but you'll only need to know about a few of them.
SCENE HEADING
You'll only use this once, right at the top of your new scene. Make sure the cursor is at the top of the page and select "Scene Heading" from the drop down menu. Then type in either INT. (for interior – meaning the scene takes place inside) or EXT. (for Exterior – meaning the scene takes place outside).
Then give the place a name. For example, I knew from watching Black Mirror, that the fight takes place in their living room and kitchen. However, both "rooms" are in the same space, so I simplified it to "Living Room."
Next, you add a dash, and write what time of day the scene takes place. For Black Mirror it took place during the day.

2. ACTION
The action is the next thing I will use in creating my formatted scene. Again, using the drop down menu, I choose "Action" and give a brief description from what I remember took place in the scene.
In Black Mirror, Lacie starts by practicing the end of her maid-of-honor speech for her brother. (Side note: because this is the first time the two characters are mentioned, I wrote their names in all CAPS) You can see in the section highlighted below what I wrote and the formatting.


3. CHARACTER
I know that Lacie is the one talking, so I chose the "Character" from the drop down menu and then write her name, "Lacie."
4. DIALOG
Next I highlight the specific line of dialogue spoken by Lacie and I select the "Dialog" option from the drop down menu. This formats the dialogue correctly.
From here on out, it's mostly going through and repeating the "Character" and "Dialog" for each time someone new speaks. In the case of the Black Mirror scene, I bounce back and forth between Lacie and Ryan until I have ordered all the dialogue.
If I remember there being an action that stops the conversation, I will add in an "Action" break and write something that suggests what should happen.
Be careful NOT to put in words that inform you emotionally ("He's angry now." or "She's sad."). It will lock you into a specific acting choice you may not notice until it's ingrained in your choices. Instead, focus on the action, like my example in the photo below, "Phone beeps."


STEP SIX – CREATE A PDF OR PRINT YOUR SCENE
Once you're ready to use your scene, all you have to do is locate the tabs at the bottom of the Celtx program and select the "TypeSet/PDF" tab. This will load a PDF ready version of your scene which you can further format.


Personally, I like to print only the pages I need, so I take it the step further and click on "Format Options" and click off the "Show Title Page" selection.


Once this is done I hit "Save PDF" and rename the file.


STEP SEVEN – REPEAT AT YOUR LEISURE
It can feel like a lot of work, but if you're serious about your craft this is an incredible tool for you to keep practicing between gigs.
Make it a practice to add scenes as you find them. It won't feel like a lot of sitting that way. The beautiful thing is, you never have to stop adding new scenes, so one day your library can become virtually as big as the one the Beast gives to Belle.
Now all you gotta do is find some fellow actors to workshop the scenes with, get creative, and enjoy your innovative library!