***THIS ARTICLE CONTAINS SEASON ONE SPOILERS!!!!***
I hate stereotypes.
In fact, I despise them with a passion. Stereotypes are lies and half truths of whole human beings. They only tell half the story.
So, when I came across Netflix Original Stranger Things, I was expecting to see a lot of high school stereotypes.
I resigned myself to it, but soon learned the Duffer Brothers, while stealing from every 80's movie out there, did something new.
They flipped those stereotypes on the head.
And I loved it.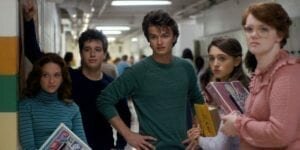 There are a few great examples of this in Stranger Things but my favourite by far is Cool Guy – Steve Harrington.
High School Hottie with a Heart
Steve Harrington is meant to be that guy in high school ALL the girls have crushes on. You probably had "that guy" in your high school.
In TV and film, this character is meant to make you fall for his good looks and his charming smile.
They tend to care more about themselves than those around them and they don't have a big character arc. They don't really learn anything new about their lives.
Ultimately, they become the airhead no one really wants to end up with.


While Steve Harrington starts off like this, throughout the first season we discover a guy who's more complex than the stereotypical high school hunk.
For starters, he actually cares about Nancy.
To date her is risky for his Cool Guy status, because she's not part of the popular crowd. She's not just another conquest for him. He actually likes her.
Yes, he messes up sometimes. But ultimately, he realizes when he's messed up and owns up to it.
A great example of this is when he and his friends give the local theatre a new paint job.
The night before, Steve sees Nancy and Jonathan in her room and suspects the worst about her. So he and his friends go down town to where "All the Right Moves" is playing and spray paint a crude message underneath the title about Nancy Wheeler's character.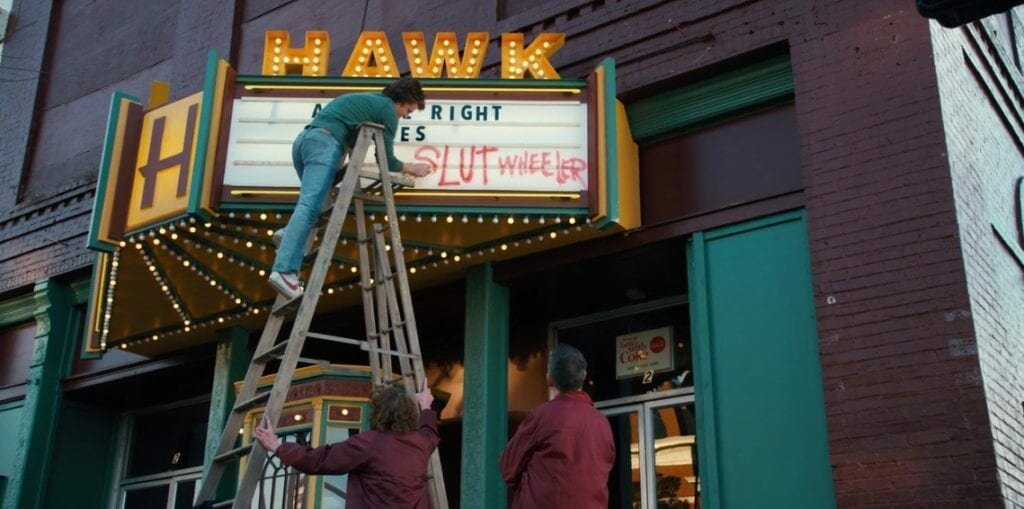 There's a confrontation, Jonathan and Steve get into a fight, which surprisingly Steve loses, and then he's left to think about the truth – the fact that he's wrong about Nancy.
He doesn't stop there.
He also realizes he need to make amends with the theatre too.
Breaking away from the stereotype he goes back to the theatre and offers to help clean off the sign.
Cool Guy to Comedic Relief
In the last two episodes Steve Harrington gets to be the funny guy.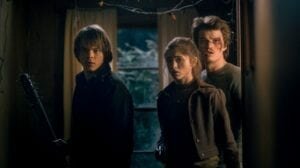 I don't mean he's cracking jokes and making puns. What I do mean is, he brings much needed relief from the stress of Monster hunting.
Nancy and Jonathan are in an incredibly dangerous situation, they've literally cut themselves to become bait! The audience needs a break here and we get it in Steve's stumbled reaction and surprised and confused looks.
And it gets even better after he sees the Monster. He goes into freak out mode, stumbling over words, trying to call the cops and flailing his arms until Nancy tells him to leave.
This is a strong departure from the Cool Guy stereotype.
Cool Guy's remain calm and collected. Or if they don't, their freak out is somehow more macho and controlled. They've still got a girl to impress, so even if they feel like running away and hiding they've got to put on a show of bravado.


Not Steve, he gets to be the comedic relief and not only that but we get to see the Cool Guy actually have a moment of truth – running away from the situation because of his fear.
Steve had one job
The character of Cool Guy has one job, ultimately. To get eaten.
He needs to stick around long enough to establish his character and relationship to the other characters, but then his sole job is to get eaten by the Monster.
But *SPOILER ALERT* he doesn't!
I kept waiting for it to happen, but it never did. When he shows up to the Byers' house to work things out with Jonathan, he's faced with the harsh reality of a monster running loose.


He sees what's really going on and when Nancy tells him to leave, I was sure this was when he got eaten.
For starters, he's bleeding. Which is something that draws the monster. Yes, Nancy and Jonathan are bleeding too, but they've bandaged their wounds; Steve's is still exosed and messy.
Secondly, he's the Cool Guy who's not supposed to end up with the girl. The easiest way to get rid of him is to feed him to the monster. It's the perfect way to give Jonathan an "in road" to comfort Nancy, and then allow him to get the girl in the end.
Which is what's supposed to happen, right?!
But it doesn't.
I was so sure that as soon as he left the Byers' house, the monster was going to get him. Instead he lives and is faced with a choice. Run or return.
Harrington the Hero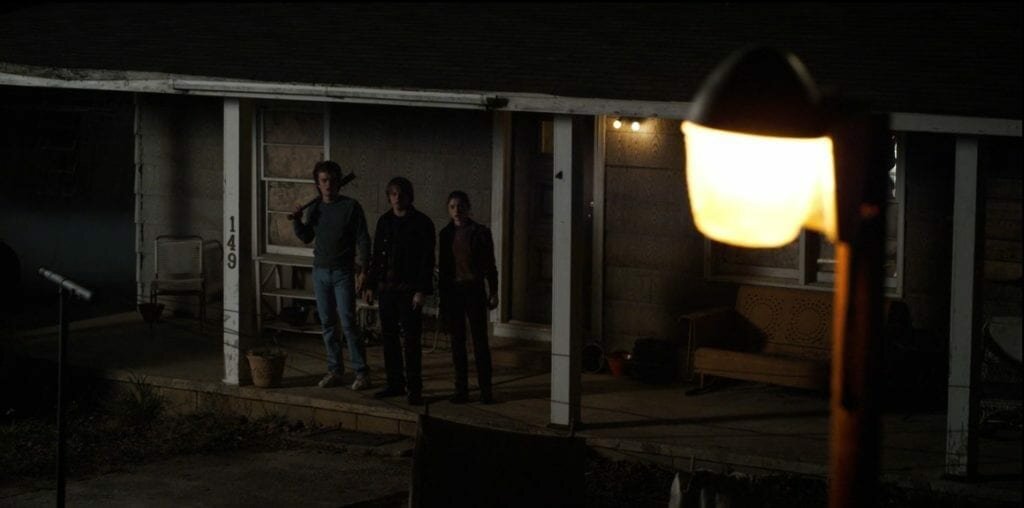 The stereotypical Cool Guy would end here; he'd either be eaten or licking his wounds somewhere. Not Steve Harrington. He gets a strong character arc. He gets his own journey.
He gets to rise to the occation and help Nancy and Jonathan. And they need it.
He fights the monster and becomes a hero. I mean, come on, when he swung that bat he meant business.
What I love about his character arc, and what I think pulls him out of the stereotype even more, is he doesn't hog the glory. In fact, he's learned to be a team player. He takes his turn being in the spotlight with his bat, but then he moves back to let Jonathan take lead with his lighter.
In the end, he goes a step further by fixing another of his mistakes.
Early on in the season he destroys Jonathan's camera. Letting it fall to the ground and shattering in peices. But once all the drama of the Monster is done and people move back into normality, he gets Jonathan a new camera.
Again lets someone else step into the spotlight to give it to him. He let's Nancy be the hero.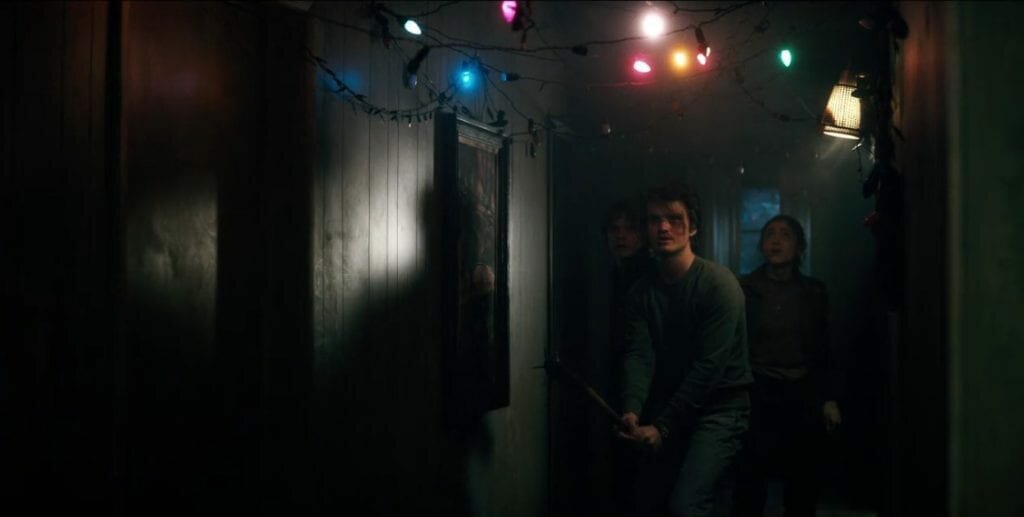 If it had been me in this situation, I'd want to give Jonathan the camera myself, it's what the Cool Guy would want to do, but instead of stealing the spotlight he lets Nancy do it.
When I saw this, I felt it was the true sign of change for the character of Steve Harrington. Not only is he not controlling the situation himself, but he's showing both Nancy and Jonathan that he trusts their friendship.
Yes, there are still some very stereotypical elements to Cool Guy, Steve Harrington, but overall I am thoroughly impressed with the Duffer Brothers.
They stole a lot, but they still did something original.
So many of us want to be original and so we write something and re-write something and re-write it again, trying to stay away from all the stereotypes and other cliches.


Often what we call "Writers Block" is nothing more than our struggle to be original.
However, the Duffer Brothers teach us something important with the character of Cool Guy, Steve Harrington, and it reminds me of something C. S. Lewis said:
"Even in literature and art, no man who bothers about originality will ever be original: whereas if you simply try to tell the truth (without caring twopence how often it has been told before) you will, nine times out of ten, become original without ever having noticed it."
The Duffer Brothers played that line well.
They didn't care about how many times this story had been told before, they cared about telling the truth and so Steve Harrington became something more than the stereotypical Cool Guy. He became a comedic hero with a heart.