There are so many creative and wonderful films out there; some we love and some we hate. Sometimes it's hard to tell the difference. What makes a movie good? What makes it bad?
If you're confused, this article is for you. I'm going to give you some practical tools to assess a film based on both subjective and objective factors, and then take you through a film so you'll be comfortable doing this yourself in private.
Download the worksheet here as a PDF: An Objective Journey into Subjectivity.
Then, follow along as we learn how to decide if we think a movie is good or not. The analysis of the film is based on a point system. Each positive answer is given one point, while negative answers are given zero points. The final section asks you to rate your answer on a scale of 1-5; the point value is equal to this scale.
If a movie got more than 16 points it's probably a movie you're ok with watching, more than 21 then it's probably a good film. More than 30?? Probably an all time favorite for you.
Let's test it shall we?
I'm going to take you through it with one of my least favorite films: The Phantom Menace.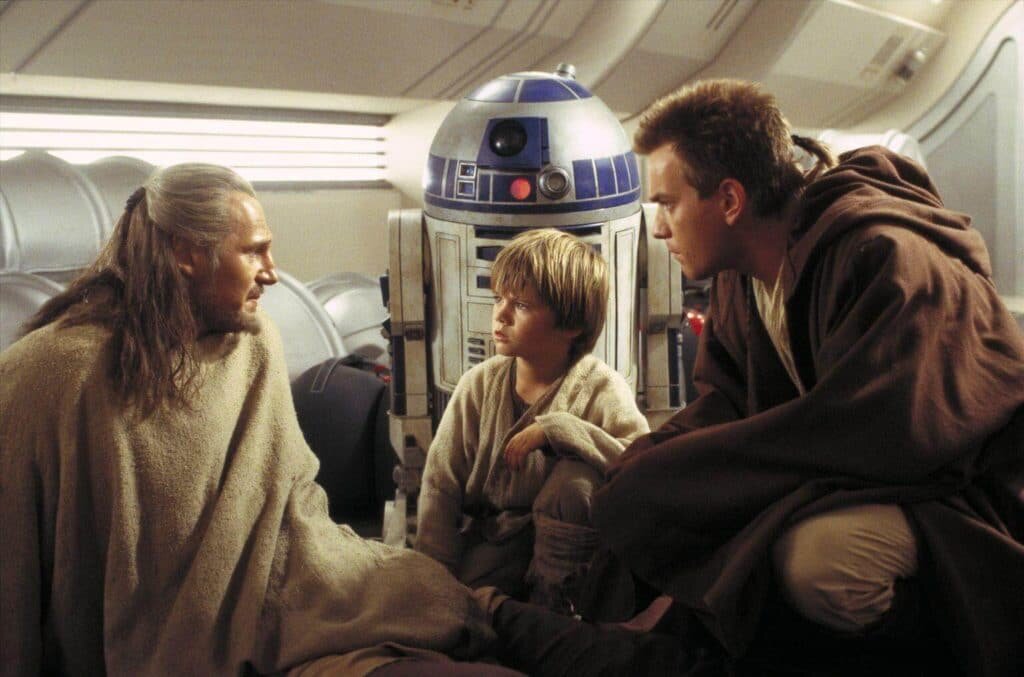 Our first step is to fill in the information in the text box in the left corner of the worksheet. You'll reference back to these as needed.
If you're confused about how to tell who your main character is, it's usually the character who is the most changed at the end of the film.
The theme/thematic material is the big idea behind the film; the idea the filmmaker wants you to take away from the film. If you're still confused, check out this blog to explain it a bit more.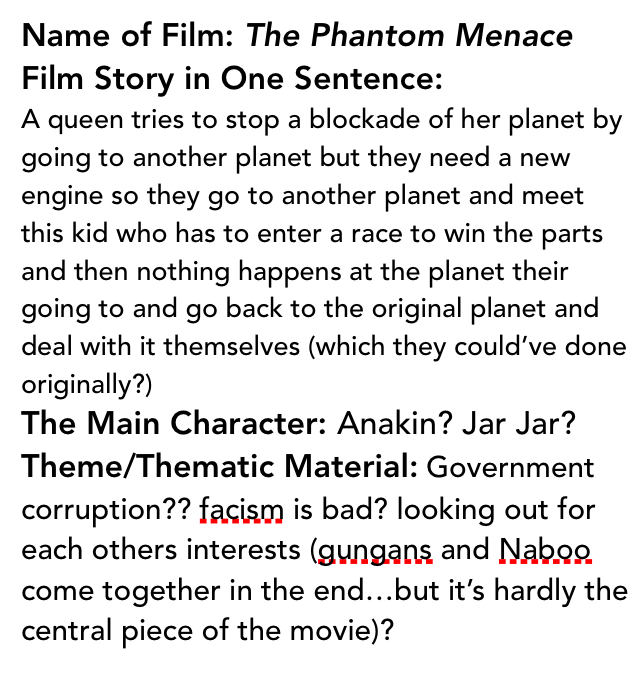 Once this is done you can move on to the next several sections of questions; you want to answer as honestly and fairly as you can. They revolve around story, character and theme.
the first question refers to your ability to write the story in a sentence from the previous section. If you're unable to do so simply (as I was for this movie, then the answer is no). The rest are fairly self-explanatory.

The next two sections play fairly similarly, both with one question taken from the information you gave in the first written portion.
The next section of questions is a bit more objective, focusing in on the artistry/craftsmanship involved in the various departments involved in the filmmaking process. Movies you love can be made poorly, and films you hate can have good aspects to them. This section helps add a bit of objectivity to your subjective opinion of a film.
Rather than YES/NO the positive distinction is HELP while the negative distinction is DISTRACT. Ask yourself, did the following aspects of filmmaking HELP tell the story, or did they DISTRACT from the story and feel out of place? If you didn't notice either way, then you can assume they were natural and helped tell the story.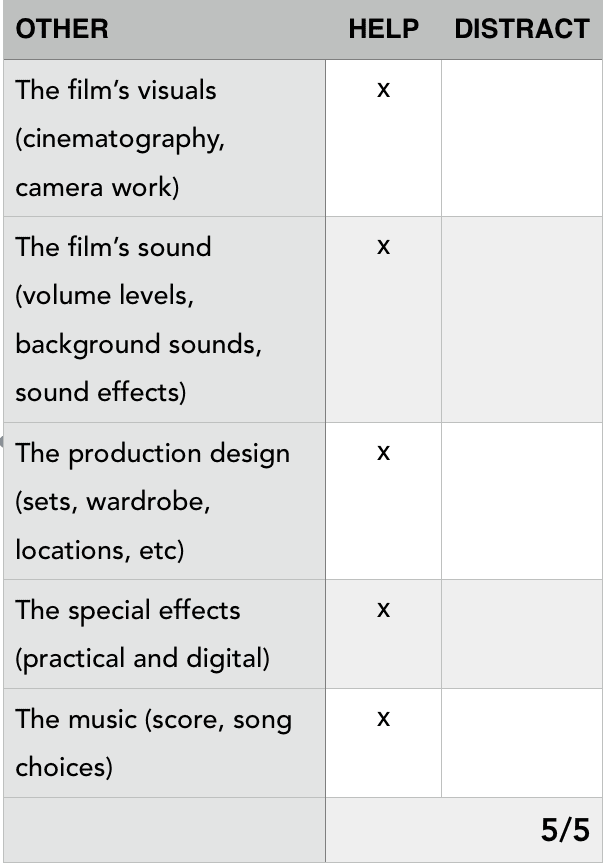 For this section, when I had mixed feelings (such as production design), I decided to go positive. Your levels of grace and compassion are totally up to you.
The last section, and perhaps the most important. There is always a part of a movie for me which is indescribable and separate from the story, and other elements of filmmaking. I call this… THE X-FACTOR.
Ultimately, this section is a way to measure how much this film resonates with you on a personal level. A movie can be poorly made but resonate with you, causing you to generally enjoy regardless.
In contrast, a movie can be executed brilliantly from a technical standpoint, but if it doesn't resonate with you, then it's not going to become one of your favorites.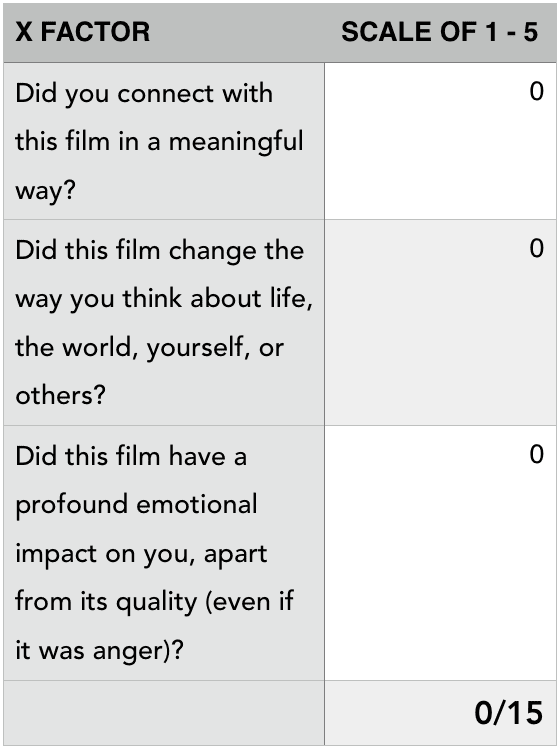 Each section should be filled out on a scale of 0 – 5: 0 meaning not in the slightest, and 5 meaning absolutely.

For the final question in this section, the emotion I am referring to should stem from the story and the contents therein, and should be divorced from poor quality in filmmaking or storytelling. If you're angry at poor quality, then the answer would be no. If you're angry because of the subject matter or the character's choices or how the story turned out, then this film had an impact on you and the answer is yes… and is something you should unpack.
Final score for The Phantom Menace? …5/32.
According to my scale this means I "absolutely hate this movie to the point of offense." This test is pretty accurate.
Now you try; think of a movie you're unsure how you feel about and run it through this test.
Perhaps you'll learn it's a good film but you just didn't connect with it emotionally. Try out a few different popular movies or some not so popular ones and let us know what points you gave them in the comments below.