Both the play and the film adaptation of A Streetcar Named Desire will always make it on the list of the greats – it is an inspiration in so many ways.
The play, written by Tennessee Williams in 1947, was successfully adapted to the screen, starring Marlon Brando and Vivien Leigh. It is the same play for which Williams received the Pulitzer Prize for Drama in 1960. It is a classic example of social realism.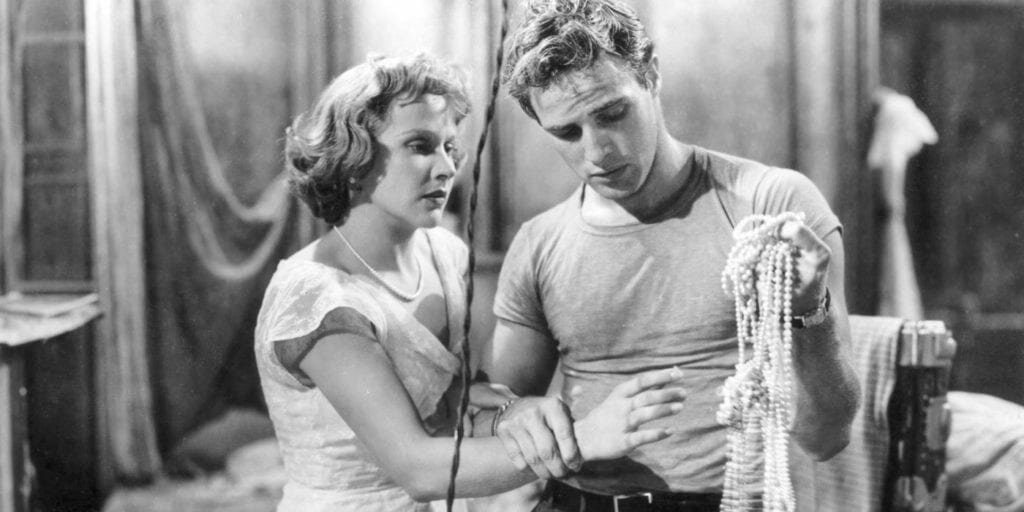 So, why is this movie a classic, you ask?
THE ACTING
Marlon Brando's acting was revolutionary for its time. It was only his second appearance in a film, but his approach went on to influence the modern film acting style which later dominated Hollywood known as The Method. His performance is raw and naturalistic. There are many precious moments you can look out for: him picking the lint off of Stella's shirt, scratching himself etc.
While Marlon Brando adapted his acting style to film acting, it was evident that Vivien Leigh's stage training still influenced her performance. In my opinion, Kim Hunter's performance (as Stella) stands out even more than Leigh's.
The audience saw a new dynamic to acting as they witnessed a different representation of human behaviour. Marlon Brando's approach was psychological. His character, who was supposed to be the absolute antagonist, was both vulnerable and dangerous, frightening and attractive, aggressive and gentle, not either or. People hadn't seen it before.
THE CHARACTERS
The complexity and contradictions of each character is fascinating. They are intricate, unique and all act from a place of past experiences and insecurities. They are human. Together with the actors, Williams is able to project the human conflict and inner torment to the screen.
The conflict between the characters is extremely effective. We have Stanley (Marlon Brando), a practical, down-to-earth blue-collar worker wired to survive in any circumstance vs his sister-in-law Blanche (Vivien Leigh), who avoids accepting reality and is completely dependent on others. Stella (Kim Hunter) is caught in the middle of the two, desiring harmony, but being forced to pick sides.
The characters weren't stereotypical as was common on stage and screen to that point. Suddenly they were neither bad nor good, they were relatable and human.


THE STORY
The audience's attention is kept over the 2-hour duration of the film, even though the story is almost entirely set in the little apartment. This alone is a testament to Williams' excellent dialogue which furthers the story without boring the audience.
The storyline is rich in motifs, symbols and themes. It covers the timeless and universal themes of age, fear of death, appearance vs reality, thwarted desire, loneliness and depression.
The fact that Blanche has to take two streetcars named Desire and Cemeteries to the Street called Elysian Fields is already an allegory of her life to this point. Her unrestrained sexual desires have led to a social death and an expulsion from her hometown, eventually forcing her to leave. During her stay with Stella's, she then has to face the consequences of her actions from her life before coming to New Orleans.
Williams creates a story with interesting characters and universal themes, enabling each member of the audience something to relate to, or to ponder and reflect on.
CONTEXT
To release the film was daring. As a matter of fact, upon its first release, it was heavily criticized and crucial parts were cut. The film was deemed immoral and decadent because of Blanche's promiscuous character and psyche, her attraction to young men, Stanley's final violation of Blanche, Stella and Stanley's sensual embrace and the tragic death of Blanche's husband who was marginalised because of his homosexuality.
The cut footage was found and the film was restored to Elia Kazan's original cut. The film went on to win several awards for Best Actress, Best Supporting Actress, Best Supporting Actor and Best Art Direction – Interior.

Next time you watch this movie, organise a group together to discuss the themes and filmmaking afterwards. Learn from Williams' writing, the deep and well-thought-out dialogue. How do the themes apply to you? Who/What do you look to for happiness? Do you put your fate into the hands of others?
Learn from the greats when it comes to your own work. Everyone who was a part of the process to tell this story from writer, to actors, to cinematographer is a source of inspiration you can choose to learn from.