A Quiet Place is an incredible and innovative film that will make you leave the theatre in surprising silence.
The film follows one family's struggle for survival in a world populated by creatures who can literally hear a pin drop. The only way to stay alive is to stay quiet.
With several jump scares and spidery, demogorgon looking creatures, this film is not for the faint of heart. But, I expected it to be scarier. I even warned my friends I was probably going to scream. I don't normally watch horror films, but wanted to make the exception for A Quiet Place because I'm a sucker for Krasinski and Emily Blunt. If you're not a horror fan, go see this, I think you'll enjoy it more than you think.
A QUIET BRILLIANCE
I fell in love with the sound design for this film. Leaves rustling through trees, rushing rivers and waterfalls, creaking silo doors, and whooshing fire. Every sound in this film tells a story.
None more so than the character of Regan Abbott who is deaf. When we're in her point of view our ears are muted too. This was an incredible choice. It heightens the suspense expertly.
The part was given to brilliant upcoming actress, Millicent Simmonds, who happens to be deaf herself. Her portrayal of Regan is enthralling and raw. And it gives us an even better understanding of a world without sound.
The film uses sound so expertly you'll leave the theatre trying to make as little noise as possible.
Krasinski tells a story of one man during a test screening confess he'd snuck a bag of skittles into the movie and for 90 minutes didn't want to open it. "That was the best compliment." Krasinski said.
The limited spoken dialogue and long silences before the next musical number all created this desire to stay silent. When I saw it no one in the theatre wanted to eat their popcorn. It was deadly quiet.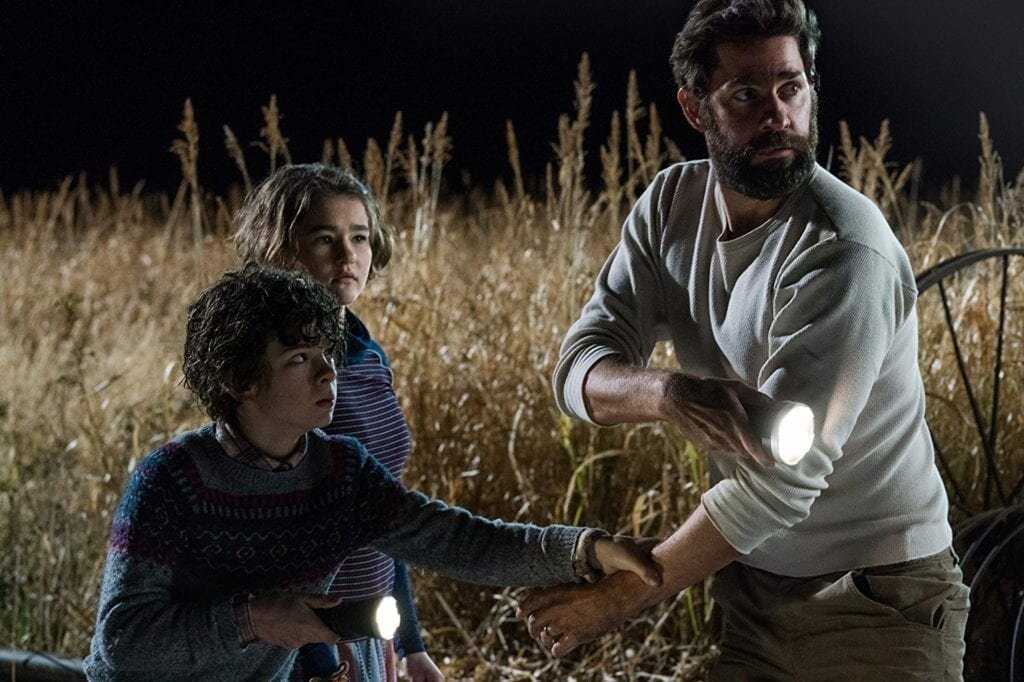 A QUIET SURPRISE
This film is full of surprising moments, but the biggest surprise came only minutes in. When already tense dynamics take a whole new turn for the Abbott family. The storytelling is a beautiful surprise by Bryan Woods, Scott Beck and John freaking Krasinski! Is there anything this guy can't do?
While a screenplay already existed when Krasinski got his hands on it, the strongest element of A Quiet Place came from his genius.
"John was incredible because what he brought to the film was being a father […] what he imbued as a director to the script was this idea of fatherhood and the fear of how can you protect your children in the worst circumstances possible." – Scott Beck, writer A Quiet Place
When Krasinski first read the script, it was shortly after his second daughter's birth. And a lot of paternal elements, such as "How can I protect her?" and "Am I a good enough father for her?" were strongly incorporated into the film.
It really makes you rethink even the small ways you've taken your family for granted. And how we take modern communication with them for granted.
The theme of family was further provoking in making the audience wonder how far they'd go to protect their family. This is shown the strongest when Blunt delivers this line, "Who are we if we can't protect them?"
This is such a beautiful film, with a strong story, amazing acting, and a strong theme. A Quiet Place is an innovative film sure to leave you with a fresh new look at the power of simple storytelling and family, now go watch it!